---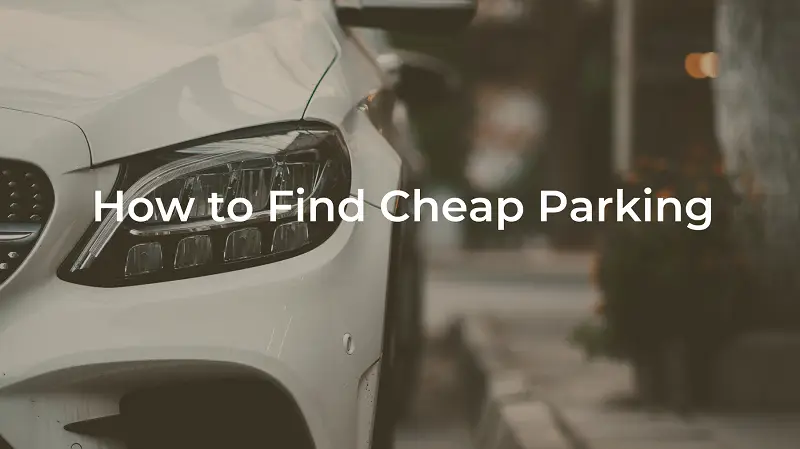 How to Find Cheap Parking
24-08-2023
Are you tired of spending a fortune on parking fees every time you go out? Finding cheap parking can be a game-changer for your budget.
Whether you're running errands, going to work, or exploring a new city, there are several cost-effective options to consider. This guide will break down various methods to help you find cheap parking without breaking the bank.
Parking expenses can quickly add up, affecting your overall finances. But worry not, as there are ingenious ways to find cheap parking that won't strain your wallet. Let's dive into the options that offer both convenience and affordability.
Rent a Driveway
Looking for a convenient and budget-friendly parking solution? Renting a driveway might be the answer you've been searching for. This innovative approach not only saves you money but also ensures that you have your personal parking spot wherever you go. Let's explore some of the popular platforms that facilitate driveway rentals and make finding your parking space a breeze.
Your Parking Space
Your Parking Space is a prominent platform that connects driveway owners with individuals seeking affordable parking options. This user-friendly website lets you search for available spaces in your desired location. You can filter your search based on various criteria such as price, distance, and facilities. With a wide range of options, you can easily find a driveway that suits your needs.
JustPark
JustPark is another top player in the driveway rental arena. It boasts an extensive network of parking spaces across the UK, making it incredibly convenient for users. The platform offers transparent pricing and easy booking processes.
You can explore different parking options, read reviews from other users, and make reservations in advance. JustPark takes the guesswork out of finding a reliable parking spot.
Stashbee
Stashbee goes beyond traditional driveway rentals. It's a versatile platform that allows individuals to rent out their unused spaces, including driveways, garages, and storage units. This means you have the opportunity to secure parking while also exploring storage solutions if needed. Stashbee's user-friendly interface and comprehensive listings make it a go-to platform for those seeking flexible parking arrangements.
Gumtree
Gumtree, a popular classifieds website, isn't just for buying and selling items. It's also a treasure trove for finding driveway rentals. Users can post listings for available parking spaces, and you can easily search for options in your desired location. With a diverse range of listings, Gumtree provides an array of choices for those looking to rent a driveway at an affordable rate.
Facebook Marketplace
Facebook Marketplace has emerged as a surprising yet effective platform for finding driveway rentals. It's a place where individuals within your community list various offerings, including parking spaces. You can browse through the listings, communicate directly with the owners, and negotiate terms. This social approach adds a personal touch to your parking arrangements.
Renting a driveway has transformed parking from an expense to a convenient and budget-friendly solution. With platforms like Your Parking Space, JustPark, Stashbee, Gumtree, and Facebook Marketplace, finding your personal parking spot has never been easier. These platforms offer transparency, choice, and flexibility, allowing you to navigate your daily travels without the worry of parking fees.
So, why spend more on parking when you can have your personal parking spot at a fraction of the cost? Explore these platforms, secure your parking space, and enjoy the benefits of hassle-free and affordable parking.
Privately Owned Car Parks
When it comes to finding economical parking options, privately owned car parks are a hidden gem. These facilities offer not only affordability but also the convenience of finding parking spots without the hassle of crowded public lots.
Let's delve into some of the prominent platforms that connect users with privately owned car parks, making your parking experience stress-free and budget-friendly.
Parkopedia
Parkopedia is a comprehensive platform that aggregates information about privately owned car parks across the UK. With a vast database of parking locations, you can easily explore options that fit your budget and preferences.
The platform provides detailed information about each car park, including pricing, hours of operation, and available facilities. This empowers you to make informed decisions about your parking choices.
NCP (National Car Parks)
NCP, or National Car Parks, is a well-known name in the parking industry. They operate numerous privately owned car parks across the UK, offering a range of parking options at affordable rates. From short-term to long-term parking, NCP provides solutions for various needs. Their user-friendly website allows you to locate nearby NCP car parks, compare prices, and even book in advance, ensuring a hassle-free experience.
Parkonomy
Parkonomy is a platform that specializes in connecting users with privately owned car parks. It offers a seamless experience where you can search for available parking spaces, view pricing details, and make reservations. The platform's user reviews and ratings provide insights into the quality of each car park, helping you make the right choice. Parkonomy's focus on convenience and transparency makes it a go-to resource for affordable parking.
APCOA
APCOA, a leading parking operator in Europe, manages a network of privately owned car parks throughout the UK. Their extensive presence means you're likely to find an APCOA-managed car park in many urban areas. APCOA offers a range of parking options, including short-stay, long-stay, and monthly subscriptions. Their commitment to customer service and competitive pricing ensures that you'll have a reliable and cost-effective parking experience.
Privately owned car parks are a fantastic solution for those seeking affordable and convenient parking options. With platforms like Parkopedia, NCP, Parkonomy, and APCOA, you have access to a wealth of information about available car parks, prices, and facilities. These platforms make it easy to locate and secure parking spots without the stress of searching for a space in crowded areas.
Why spend more on parking when privately owned car parks offer a budget-friendly alternative? Explore these platforms, discover the best parking options for your needs, and enjoy the convenience of affordable parking.
Park & Ride
If you're tired of the endless search for affordable parking in urban areas, the Park & Ride solution might just be your golden ticket. Park & Ride schemes are a smart way to combine the convenience of driving with the cost-effectiveness of public transportation. Let's explore the various Park & Ride schemes across the UK and discover how they can revolutionize your daily commute.
Park & Ride Schemes
Park & Ride schemes have gained popularity across the UK as a practical solution to the challenges of urban parking. Numerous cities and towns have established Park & Ride facilities strategically located on the outskirts, allowing commuters to park their vehicles and hop onto public transit for the rest of their journey.
Cities like London, Manchester, Edinburgh, and Birmingham offer extensive Park & Ride networks. These schemes typically involve well-maintained parking lots, often with secure facilities, and easy access to nearby public transportation, such as buses, trams, and trains.
Benefits of Park & Ride Schemes
1. Cost Savings: One of the most significant advantages of Park & Ride schemes is the cost savings. Parking fees in city centres can be exorbitant, but Park & Ride facilities offer more reasonable rates, allowing you to slash your parking expenses.
2. Reduced Traffic Congestion: By using public transportation after parking your vehicle, you contribute to reducing traffic congestion in urban areas. This not only benefits you but also the community at large by promoting smoother traffic flow.
3. Stress-Free Commute: Driving through heavy traffic and hunting for parking spots can be stressful. Park & Ride schemes eliminate the stress of finding a parking space and navigating congested city streets.
4. Environmental Benefits: Opting for public transportation over driving alone reduces your carbon footprint. Park & Ride encourages sustainable commuting, contributing to a cleaner environment.
5. Time Efficiency: Park & Ride allows you to bypass city traffic, potentially saving you significant commuting time. Public transit often follows dedicated lanes, ensuring a quicker journey.
6. Accessibility: Park & Ride facilities are typically located near major roadways, making them easily accessible for drivers. This means you can conveniently access public transit without detours.
7. Flexibility: Many Park & Ride facilities operate throughout the day, offering flexibility for commuters with varying schedules.
8. Integration with Smart Cards and Apps: Some cities integrate Park & Ride facilities with smart cards or mobile apps, making payments and transit connections seamless.
Park & Ride schemes provide a remarkable solution to the challenges of urban commuting and parking. With facilities strategically placed on the outskirts of cities and towns, you can conveniently park your vehicle and continue your journey via public transportation. The benefits are manifold—cost savings, reduced stress, environmental consciousness, and improved traffic flow are just a few.
Embrace the Park & Ride revolution and experience a more efficient and affordable way to navigate city life. Say goodbye to parking woes and hello to a smoother, budget-friendly commute.
Free Parking
Finding free parking spots might seem like chasing unicorns, but they do exist and can be a lifesaver for your budget. Imagine being able to park without shelling out a penny. In this section, we'll explore the concept of free parking spots and share some tips on how to score them in various situations.
Finding Free Parking
Free parking spaces are spots that allow you to park your vehicle without incurring any fees. These spots can be found in a variety of places, including residential areas, side streets, and certain public spaces. While they might require a bit of patience and sometimes creative thinking, the benefits of free parking are undeniable.
Types of Free Parking Options
1. Street Parking: In some neighbourhoods, you can find free street parking with a bit of luck and timing. Be mindful of parking regulations and restrictions, such as time limits and resident-only zones.
2. Outskirts of Urban Areas: Parking becomes scarcer as you move closer to the city centre. By seeking spots on the outskirts and using public transportation to get to your destination, you can avoid hefty parking fees.
3. Unregulated Areas: Some areas might not have strict parking regulations, allowing you to park freely. Just ensure that you're not violating any local laws or inconveniencing others.
4. Parks and Recreational Areas: Many parks offer free parking spaces for visitors. This is a great option if you're planning to spend time outdoors or explore the local scenery.
5. Shopping Centres and Retail Parks: Some shopping centres and retail parks offer free parking as a way to attract customers. Keep an eye out for these establishments when searching for parking.
Tips for Scoring Free Parking Spaces
Finding somewhere free to park your car can seem like you have hit the jackpot, and it is a great way to save you money.
1. Research: We recommend visiting websites such as Free Parking Spots who identify places you can park for free across the UK, so you don't have to go on the hunt when you arrive at your destination.
2. Be Early: Arriving early increases your chances of snagging a free spot before they fill up.
3. Read Signs: Pay attention to parking signs and regulations to avoid fines.
4. Utilise Apps: Use parking apps that provide real-time information on available parking spots.
5. Explore Residential Areas: In residential areas, you might find spaces available during off-peak hours.
6. Consider Walking: If a free spot is a bit farther from your destination, consider it an opportunity to get some exercise.
7. Plan Ahead: Plan your outings to coincide with off-peak hours when parking might be more available.
Finding parking spots that don't have restrictions are a treasure for the budget-conscious driver. While they might require a bit of effort and patience, the money saved is well worth it.
By exploring street parking, outskirts of urban areas, unregulated areas, parks, and other opportunities, you can reduce your parking expenses and enjoy the convenience of parking without the added cost.
So, next time you're heading out, consider the possibility of scoring a free parking spot. With a little planning and a keen eye, you might just find yourself enjoying the luxury of parking without spending a dime.
Don't let parking costs drain your finances. Finding cheap parking is all about exploring alternative options and being resourceful. By renting driveways, seeking out privately owned car parks, utilizing park & ride facilities, and scouting for free parking spots, you can keep more money in your pocket while still enjoying your outings to the fullest.
---
Latest motor industry news