---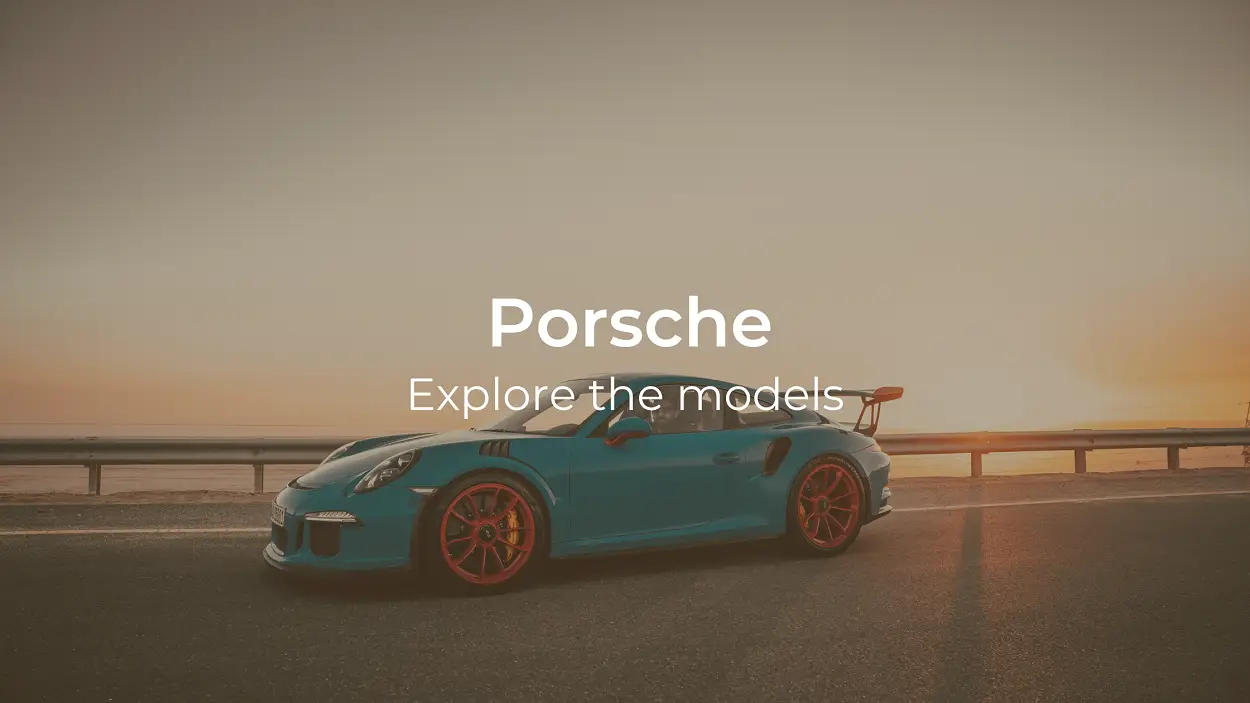 Porsche - Exhilarating Range of Luxury Cars
15-05-2023
Are you a car enthusiast with an unquenchable thirst for luxury and performance? Look no further than the Porsche models available for purchase in the UK. From iconic sports cars to versatile SUVs, Porsche offers a diverse line-up that caters to the desires of discerning drivers.
In this guide, we will delve into the captivating world of Porsche prestige cars, exploring the range of models you can find in the UK, their unique features, and what sets them apart from the competition. So fasten your seatbelts and get ready for an exhilarating ride!
Porsche Models: A Closer Look
Porsche has established itself as a brand synonymous with precision engineering, luxurious interiors, and unmatched performance. Here are some of the remarkable Porsche models you can purchase in the UK:
Porsche 911: The iconic Porsche 911 is a timeless classic that continues to captivate automotive enthusiasts worldwide. Renowned for its sleek design, exceptional handling, and exhilarating speed, the 911 is the epitome of sports car perfection.
Porsche Cayenne: If you crave a combination of power and versatility, the Porsche Cayenne is the ideal choice. This luxury SUV boasts a commanding presence on the road, with a range of powerful engines and advanced technology that ensures a thrilling driving experience, both on and off the beaten path.
Porsche Panamera: Blending sports car performance with luxurious comfort, the Porsche Panamera is a stunning four-door grand tourer that exudes elegance and style. With its powerful engines, opulent cabin, and cutting-edge features, the Panamera offers an unrivalled driving experience.
Porsche Macan: For those seeking a compact SUV that doesn't compromise on performance, the Porsche Macan delivers in every aspect. Its agile handling, potent engines, and striking design make it a perfect companion for both city driving and thrilling adventures.
Porsche Taycan: As Porsche's first all-electric vehicle, the Taycan represents the brand's commitment to sustainable mobility without sacrificing performance. With its ground-breaking technology, breath-taking acceleration, and impressive range, the Taycan sets a new standard for electric sports cars.
Porsche 718 Boxster/Cayman: Designed to offer pure driving pleasure, the Porsche 718 Boxster and Cayman deliver exhilarating open-top experiences. With their mid-engine layout, precise handling, and spirited performance, these two-seater sports cars are a joy to drive.
Porsche 911 Turbo: Taking the legendary 911 to new heights, the Porsche 911 Turbo raises the bar in terms of speed and agility. With its turbocharged engine, advanced aerodynamics, and cutting-edge technology, this performance-focused variant delivers an adrenaline-pumping driving experience.
Porsche 911 GT3: Designed for the track and engineered for the road, the Porsche 911 GT3 is a race-bred machine that pushes the limits of performance. With its lightweight construction, aerodynamic enhancements, and race-inspired features, the GT3 offers an unrivalled driving experience.
Porsche Cayenne Coupe: Combining the versatility of an SUV with the sleekness of a coupe, the Porsche Cayenne Coupe is a true head-turner. Its dynamic design, powerful engines, and sporty performance make it a compelling choice for those who desire both style and substance.
Porsche Panamera Sport Turismo: Offering the practicality of a wagon without compromising on style, the Porsche Panamera Sport Turismo is a stunning and spacious luxury vehicle.
Porsche 718 T: The Porsche 718 T is a driver-focused sports car that combines the exhilaration of a purebred racer with everyday usability. With its lightweight design, enhanced agility, and sporty features, the 718 T delivers an engaging and dynamic driving experience.
Porsche Macan GTS: Building upon the success of the Macan, the Macan GTS takes performance to a whole new level. With its sporty styling, upgraded suspension, and powerful engine, this SUV delivers thrilling performance without compromising on comfort.
Porsche 911 Carrera: The Porsche 911 Carrera is the quintessential sports car, offering a perfect balance of power, agility, and timeless design. With its range of engine options and driver-focused features, the Carrera delivers an unforgettable driving experience.
Porsche Cayenne Turbo: If you crave exhilarating performance in an SUV package, the Porsche Cayenne Turbo is the answer. With its twin-turbocharged V8 engine, sport-tuned suspension, and luxurious interior, this SUV redefines what is possible in terms of power and refinement.
Porsche Taycan Cross Turismo: The Porsche Taycan Cross Turismo is an all-electric, high-performance wagon that combines the versatility of an estate with the exhilaration of electric driving. With its rugged design, spacious interior, and impressive range, the Taycan Cross Turismo is ready for any adventure.
Porsche 911 Targa: The Porsche 911 Targa pays homage to the iconic open-top models of the past while embracing modern technology and performance. With its unique retractable roof and powerful engines, the Targa offers an open-air driving experience like no other.
Porsche Cayman GT4: Built for the track but perfectly capable on the road, the Porsche Cayman GT4 is a purebred sports car that delivers outstanding performance and precision. With its race-inspired aerodynamics, powerful engine, and track-focused features, the Cayman GT4 is a driver's dream come true.
Porsche Panamera GTS: The Porsche Panamera GTS combines the elegance of a luxury sedan with the sportiness of a high-performance car. With its powerful V8 engine, sport-tuned suspension, and luxurious interior, the Panamera GTS offers a dynamic driving experience without compromising on comfort.
Porsche 911 Turbo S: Taking performance to stratospheric levels, the Porsche 911 Turbo S is the pinnacle of automotive engineering. With its twin-turbocharged engine, advanced aerodynamics, and cutting-edge technology, the Turbo S delivers blistering speed and unparalleled driving thrills.
Porsche 718 Spyder: The Porsche 718 Spyder is a convertible sports car that embodies the essence of driving pleasure. With its lightweight construction, mid-engine layout, and high-revving naturally aspirated engine, the Spyder offers an unrivalled connection between driver and machine.
---
Latest motor industry news