---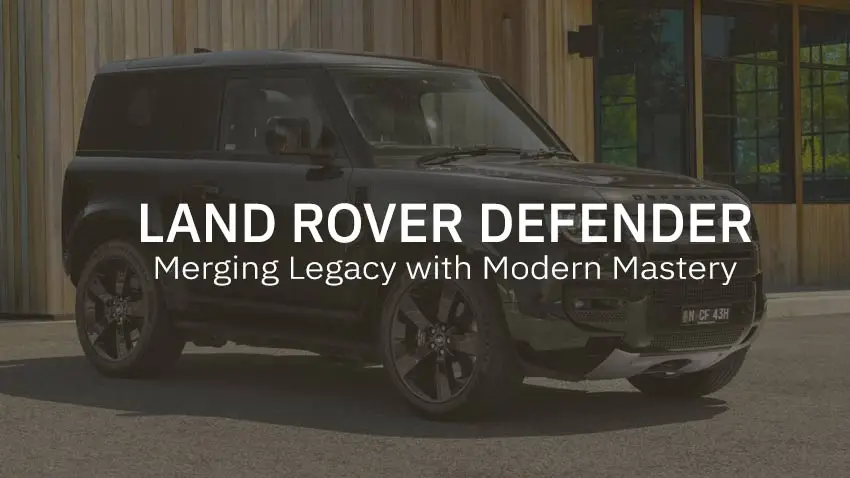 The Land Rover Defender: Merging Legacy with Modern Mastery
18-09-2023
Few vehicles evoke as much passion and nostalgia as the Land Rover Defender. It's a nameplate that carries with it tales of intrepid adventures, rugged terrains, and an unwavering commitment to durability. As the world progresses into a new era of automotive design and technology, the Defender has been reimagined, bridging its illustrious past with the innovations of today. In this review, we delve deep into the latest incarnation of this legendary SUV, exploring its performance, design, and the features that make it both a nod to its heritage and a beacon of modern motoring.

Engine and Performance:

The Defender offers a variety of powertrains, ranging from the D200 (2.0L diesel) to the P400 (3.0L mild-hybrid petrol). UK buyers often prefer the diesel options for their better torque at lower RPMs, making it apt for both off-roading and cruising on the motorway. The P400 provides a punchy performance, achieving 0-60 mph in just around 6 seconds. The engines are mated to an 8-speed automatic transmission which ensures smooth shifting in varied terrains.
Exterior:

Melding heritage with modernity, the new Defender's exterior retains the boxy silhouette that made its predecessor iconic. It has a commanding presence with its broad shoulders, upright stance, and distinctive LED headlights. Though reminiscent of the classic Defender, it adds a contemporary touch with aerodynamic curves, flush door handles, and a side-mounted spare wheel.
Interior:

The interior of the Defender is a blend of luxury and ruggedness. There's ample use of premium materials, combined with rubberised surfaces for durability. Despite its off-road pedigree, the Defender offers plush seating, with an optional third row, and a modern dash layout. Practicality is retained with plenty of storage spaces and a durable load space in the back.
Safety:

Safety has been a prime focus. Features like the ClearSight Ground View (which lets the driver "see through" the bonnet for better off-road navigation) and ClearSight rearview mirror (a digital rear-view mirror) enhance visibility. Standard safety features include Automated Emergency Braking, Lane-Keeping Assist, and Traffic Sign Recognition among others. Additionally, its rigid structure and multiple airbags ensure protection during collisions.
Technology:

The centrepiece of the Defender's tech suite is the 10-inch Pivi Pro infotainment system. It's more intuitive than Land Rover's previous systems and offers Apple CarPlay, Android Auto, and over-the-air updates. Other notable tech features include a 12.3-inch digital driver's display, Meridian sound system, and a host of USB and 12V charging ports.
Fuel Economy:

Being a large SUV, the Defender doesn't boast outstanding fuel economy figures. However, the diesel variants, especially the D200 and D240, offer decent mileage figures that align with other vehicles in its class. The mild-hybrid system in the P400 aids in slightly better fuel efficiency during city drives.
Off-road Capability:

Arguably the Defender's most defining trait, its off-road prowess is unmatched in its segment. With the Terrain Response 2 system, it can adapt to various terrains, from rocky trails to muddy paths. The Defender boasts impressive figures: a wading depth of up to 900mm, approach angle of 38 degrees, and a departure angle of 40 degrees. Its air suspension can be raised for better ground clearance, making it a genuine go-anywhere vehicle.
Conclusion:

The new Land Rover Defender is a commendable evolution of a legendary nameplate. It offers a perfect blend of modern luxury and rugged functionality. Whether you're traversing the challenging trails of the Lake District or cruising through the streets of London, the Defender ensures you do it in style and comfort.
---
Latest motor industry news